Short Unique Destinations in Peru, Ecuador and Bolivia
Build and plan your Peru journey with short and spectacular destinations and activities. Below we will present ten adventurous destinations. All of them first handedly explored by Coex Amazon. We offer an impressive variety of destinations and activities; we possess profound local knowledge since we started in 2005 and we always strive for high level of personal service. Our services and infrastructure hold exclusively good standard to high standard.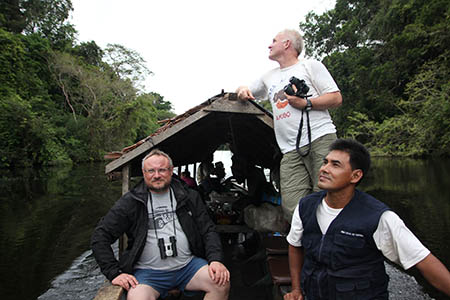 Unique journeys – 1
From Iquitos to Pacaya Samiria by seaplane into the heart of Amazon (4days) Prices from: USD 1750
Fasten the seatbelts for a spectacular flight by seaplane over just a small tab of the Amazon lowland jungle before landing into the heart of wonderful tropical nature reserve, Pacaya Samiria. Our hosts and personal from the community Yarina is waiting for us, and we will start a fantastic boat journey down-steam a small river into these flooded rainforests. We do several stops on the way and we will set camp before arriving the small community of Yarina. Here we will live in nice bungalows on poles far into the forest and we will enjoy the pristine and intact biodiversity with warm, happy and friendly people. They are different than us. They possess different senses perfectly adapted to this habitat. We are privileged to take part of their cosmovision. Here in the flooded forests of Pacaya Samiria threatened species find healthy, sustainable and undisturbed living conditions and that opens up unequalled opportunities to see intact tropical rainforest wildlife.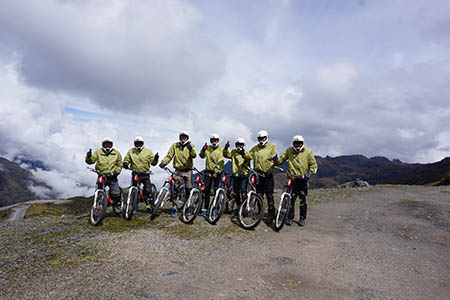 Unique journeys – 2
Biking and trekking to Machu Picchu (4days) Prices from: USD 550
We are setting off for a 4-day trekking in between Andes mountains and the Amazon jungle. First on bike downhill two thousand altitude meters from a mountain pass all the way down to the high-jungle, from there trekking on Inca trails in tropical environments all the way to the foot of the magical Machu Picchu. We will experience intimacy to wonderful nature and during the trekking our guide will give us a more profound understanding of the Incas life-philosophy and how that still influence present time.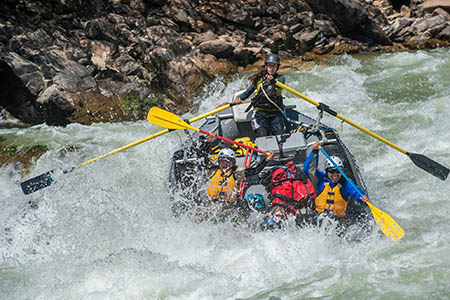 Unique journeys – 3
Rafting from the Andes down to the Amazon (9days) Prices from: USD 2500
This is a unique rafting-expedition in untouched and hidden part of the Amazon jungle south in Peru – a jewel of a nature experience hardly discovered by man. In exuberant, tropical, pristine nature, occasionally with the sensation of adrenalin pulse, we are rafting down the adventurous rio Tambopata 300 km from the Andes mountains along the border between Peru and Bolivia, eventually into two large extended and little explored coherent nature-reserves on the Peruvian side all the way down to our final destination Puerto Maldonado in the lowland jungle.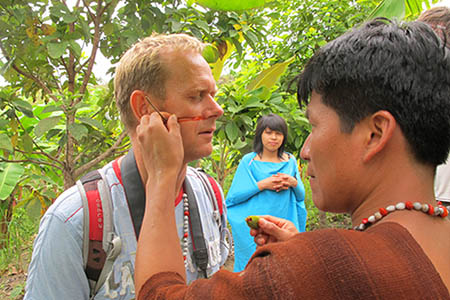 Unique journeys – 4
Live with Amazon natives on their terms (7days) Prices from: USD 800
We are crossing the Andes west range in order to reach the high-jungle of the Amazon. Our first destination is a small hidden German-Italian coffee hacienda from the past with lots of history and soul. From there by 4×4 we make our way further into the jungle until the end of the road. Here we will meet our hosts for the next days, an Amazon indigenous tribe who are fighting for protecting the rainforests around the natural-reserve Yanechaga. The next days we will live in their habitat on their terms and be a part of their idiosyncrasy and customs. A way of living little known for the modern world.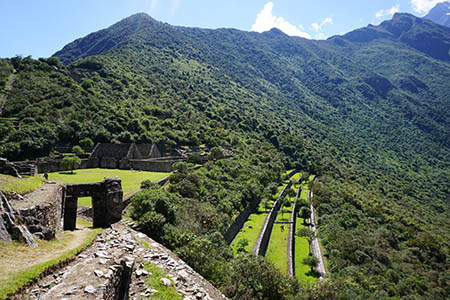 Unique journeys – 5
Trekking on Inca-trails to the hidden Inca citadel Choquequirao (10days) Prices from: USD 1500
This is an adventurous trekking in the Andes mountains along the famous Vilcabamba range on little known and well intact Inca-trails. When we walk on these historic trails, we may be thinking that these trails were possibly constructed by the last two Inca kings Manco Inca and his son Tupac under their 40 years of guerrilla wars against the Spanish colonial regime. Our destination is Choquequirao, an Inca citadel hidden and little known but quite well preserved with a spectacular location, only reached by foot. This journey starts and ends in Cusco.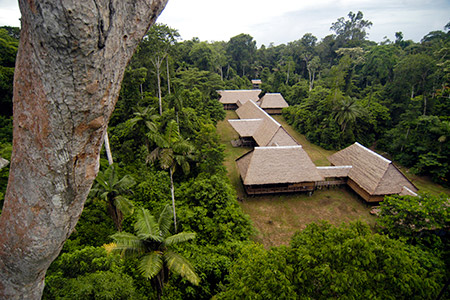 Unique journeys – 6
Lodge TRC – extraordinary fauna experiences in the Amazon (5days) Prices from: USD 1200
We will do a deep dive into a part of the Amazon jungle considered to possess some of the greatest biodiversity on earth. It is the natural reserve Tambopata, south-west in the Amazon rainforest and we are by boat going up the river Tambopata all the way to the world famous lodge Tambopata Research Centre (TRC), far into the natural reserve. Because of its unique and natural location, it is an exceptional well situated place to get close encounters of intact and undisturbed wildlife. National Geographic twice has had front-page stories from Tambopata and TRC, the perfect habitat where you can find the world largest concentration of macaws. In this part of Tambopata threatened species find healthy and naturally sustainable living conditions and that opens up unequalled opportunities to see intact tropical rainforest wildlife.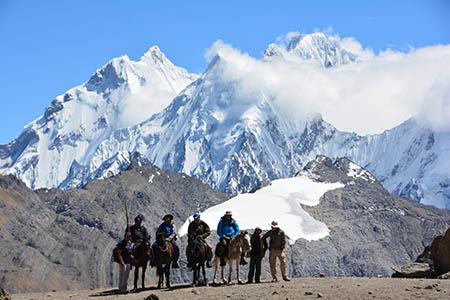 Unique journeys – 7
Trekking around the world highest tropical mountain range (10days) Prices from: USD 1500
The Andes most spectacular and wild mountain range is Huayhuash and is a part of the 200 km long White Mountain Range with more than thirty 6-thousand meter peaks, more than 600 glaciers and several hundred small turquoise lagoons. This mountain range is the world highest tropical mountain range and is well known among mountain climbers. We are not going to climb but together with a professional team of personal and well adapted mules and horses we will reach mountain passes of 5100 masl. We will bring all the necessary equipment and infrastructure to make this a delightful and inspiring experience.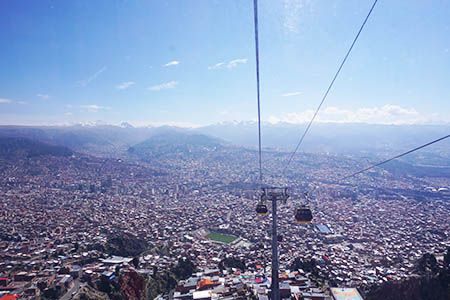 Unique journeys – 8
Roundtrip over the Altiplano between Peru and Bolivia (7days) Prices from: USD 1500
We are standing by the banks of Titicaca in Peru located at the world largest and highest plains "Altiplano". The next days we will live with the Aymara-speaking Uro natives living on floating totora roots on Lake Titicaca, we will cross the border into Bolivia, step on holy ground at the historical and archaeological cultural landmark of Tiahuanaco before arriving UNESCO-protected cultural capital of La Paz. A peculiar city with a conical shape, one thousand vertical meters' difference from the bottom to the top. We will have time for an extraordinary downhill bike ride on the famous death road to Yungas, from the high Andes and down to the Amazon jungle, an altitude difference of 3000 meters. Eventually we are heading further south to Salar the Uyuni, the world largest plains of salt. A surreal experience that has to be crowned by staying a night at the salt hotel before returning to La Paz.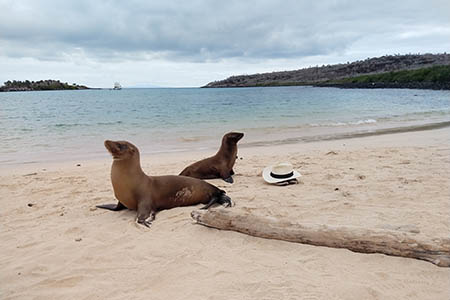 Unique journeys – 9
Explore Galapagos from land and from water (5days) Prices from: USD 1950
We are at the islands of Galapagos. Galapagos is a wonderful protected ecosystem far into the Pacific Ocean with a unique fauna. We will have daily journeys on land and in water. We are here because we want to get close to the nature and the elements in order to feel private intimacy and undisturbed fauna experiences. A good guide with an intimate and personal approach provides the best conditions to obtain that. Every day we will have a new boat excursion to new islands. The activities are first of all hiking on land and snorkelling into the water. At both levels we can observe precious flora and fauna.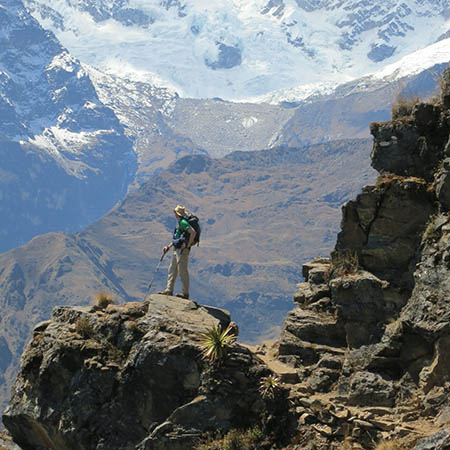 Unique journeys – 10
Trekking Inca trails around Salkantay to Machu Picchu (5days) Prices from: USD 700
We are trekking four days on Inca trails and on the way we are crossing a pass close up to the Incas holy snow-mountain Salkantay before we arrive on the fifth day to the famous Inca citadel of Machu Picchu – one of the seven wonders of the world. This is a 40 km trek in very different terrain, different topography, different altitudes between 2400 and 4300 masl, different climates and different ecosystems and microclimates, from tropical jungle to snow-mountain. On the fourth day we will have an extraordinary beautiful view over the tropical landscape that surrounds the marvellous Machu Picchu. This is a trek with cargo horses and with a professional team of personal; expert guide, cook and muleteers.